The Covid-19 Pet Food Shortage
The Covid-19 pandemic has caused significant disruptions in the availability of pet food. If you rely on canned food for your pet, you may have noticed frequent out-of-stock situations at larger retailers. However, shopping at independent pet stores can offer a solution and support local businesses. In this article, we'll explore the reasons behind supply chain disruptions, including labor and supply shortages, imported ingredient delays, and inclement weather. We'll also discuss the increased demand for pet food due to higher pet adoption rates. Additionally, we'll address the possibility of formula changes and provide guidance on finding assistance for out-of-stock pet food.
Large retailers such as supermarkets, big box stores, and even online retailers seem to have more significant out-of-stock problems than smaller independents. For you, this means that shopping at local independent stores could benefit you and the community you live in!
Reasons for Supply Chain Disruption
The Covid-19 pandemic has caused interruptions at every level of the supply chain, impacting various aspects that affect the availability of canned pet food. These disruptions, some of which may not have been previously considered, can take several weeks or months to manifest on store shelves. Let's explore the key factors contributing to the slower production rates of canned pet food.
1. Labor Shortages
Labor shortages have had a significant impact on production, affecting livestock farms, canning facilities, and delivery drivers. These shortages have resulted from social distancing measures, lower facility capacities, and individuals needing to self-quarantine due to infection or exposure to the virus. With multiple instances of labor shortages, production lead times have increased from 1-2 weeks to 2-4 months. Consequently, some canned pet food manufacturers are currently unable to accept purchase orders. Certain brands or entire product lines may never resume production.
2. Supply Shortages
Supply shortages and delays are also contributing to the disruption. Livestock farms and slaughterhouses at the beginning of the supply chain have faced difficulties finding workers to process the necessary ingredients for pet food. Consequently, this has led to slower supply or temporary shortages. While there are alternative suppliers for common proteins like beef and chicken, more exotic options often experience long-term shortages.
3. Imported Ingredients
Imported ingredients have encountered delays as well. Both national and international production facilities have implemented measures that require extended closures for quarantine, cleaning, and labor and supply shortages. Additionally, staffing shortages and safety measures enforced by the U.S. Customs and Border Patrol have prolonged the time imported products spend at ports, further exacerbating delays.
4. Inclement Weather
Inclement weather has also impeded transportation throughout the supply chain. Widespread delays caused by hazardous travel conditions and power outages resulting from winter storms have affected suppliers, production facilities, and retailers. Although this factor may not be the primary cause for empty shelves, it contributes to slower replenishment.
5. Increased Adoption Rates
Many families took advantage of the extra time they've had the last couple of years and welcomed a new pet into their home.All those new pets inevitably brought a surge in demand for pet food. APPA reports 70% of U.S. households owned at least one pet in 2021, and pet owners have become increasingly interested in what they are feeding their pets. Wet and canned food, in particular, saw a dramatic increase in sales. 
Have some formulas changed?
Some pet food manufacturers have chosen to discontinue or reformulate their recipes to bypass scarce ingredients to overcome some of the supply chain's hurdles. So if your pet hesitates to eat his dinner, there may have been an ingredient swap that occurred. Be sure to check your pet food label to find possible ingredient substitutes.   
Finding Answers and Assistance for Out-of-Stock Pet Food
If your pet food is currently unavailable, you likely have several questions in mind. Why is my pet food out of stock? Will it be restocked, and when? What alternatives are available for my pet's dietary needs? Who can assist me in finding a comparable option?
Unfortunately, employees at Big Box stores are unlikely to provide answers because these large retailers do not have direct relationships with distributors. As a result, they possess limited or no information regarding out-of-stock items.
On the other hand, small independent pet retailers have the advantage of ordering and receiving products from multiple distributors. This proves beneficial when a particular supplier runs out of a specific item. Additionally, indie retailers maintain direct contact with distributors and enjoy close relationships with brand representatives. As a result, indie stores can provide accurate and real-time information sourced directly from the distributors themselves.
Moreover, indie pet store staff are well-equipped to assist you in finding suitable replacements if your preferred pet food is unavailable or discontinued. These recommendations are tailored to your pet's needs, ensuring that they are not driven by sales goals but rather genuine concern for your pet's well-being.
Covid-19 Pet Food Sales
The below charts show a significant dollar amount increase for both dry and wet pet food formats.  Dry food experienced a greater dollar growth; however it was actually a smaller percentage of growth in comparison to wet foods (data as of August, 2020). This means that there likely was more of a strain put on wet food producers, further adding to shortages.[vc_column width="1/2″]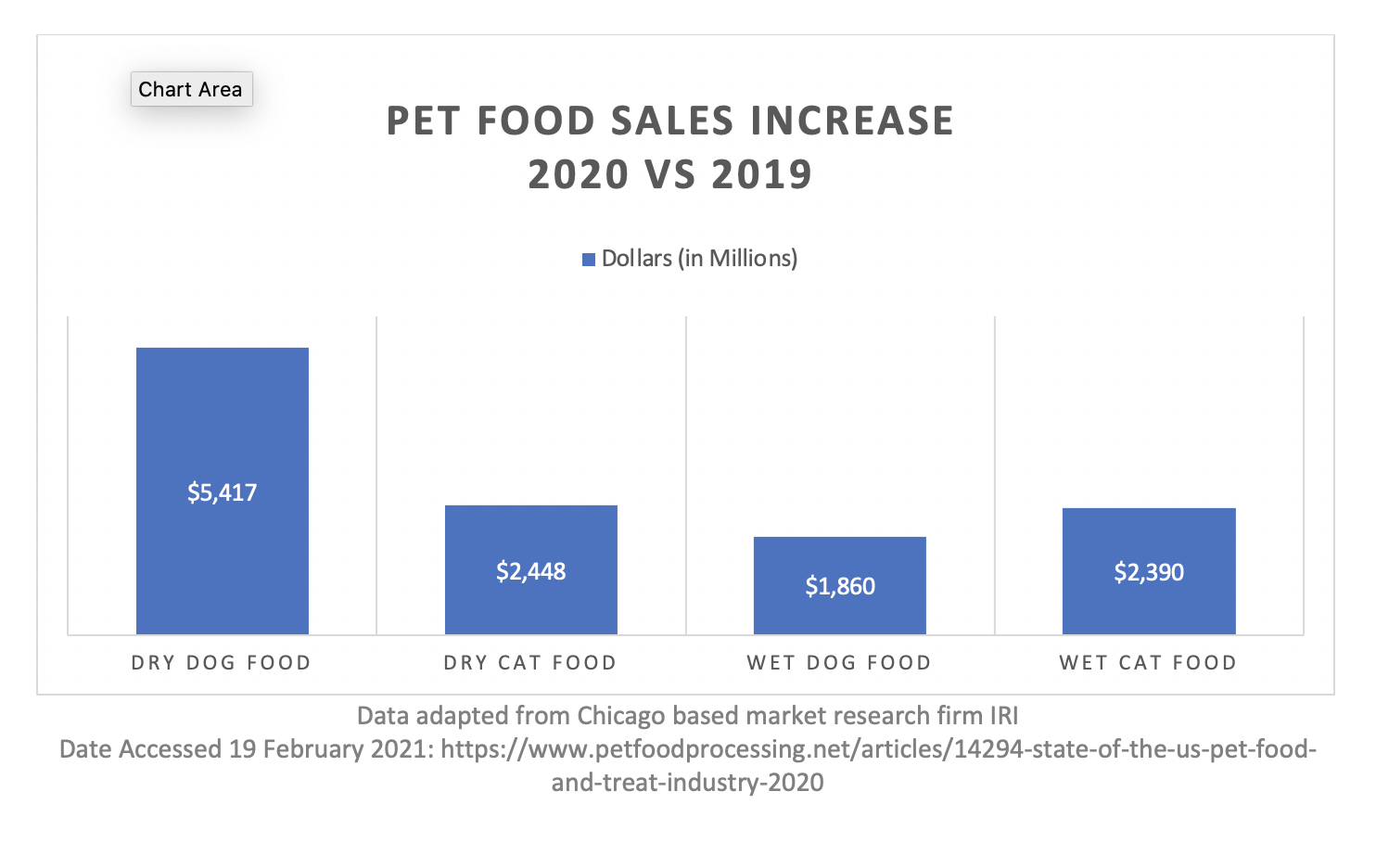 [vc_column width="1/2″]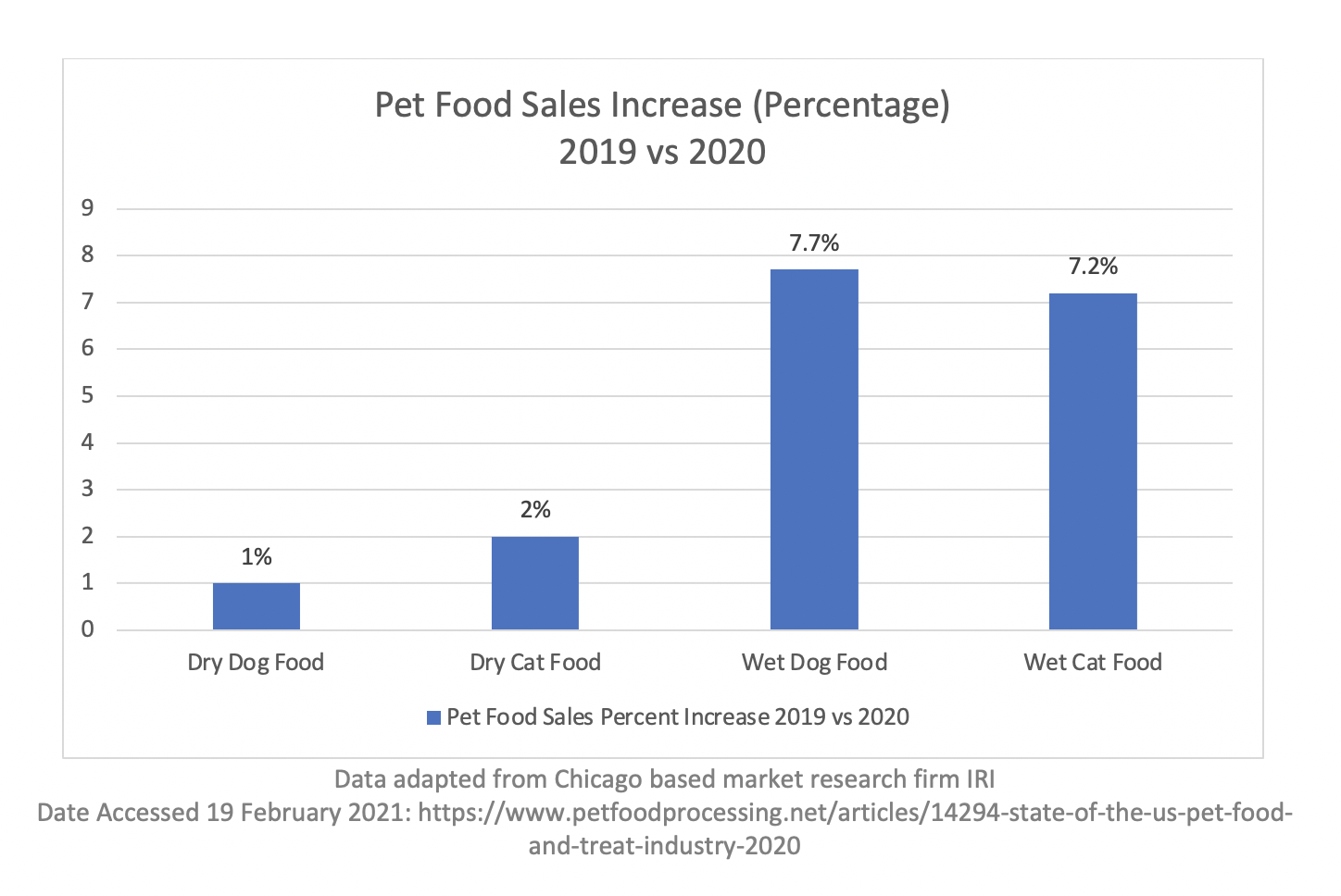 About the Authors:
 Nicole Cammack
Nicole is the founder & owner of multiple-award-winning NorthPoint Pets & Company, in Connecticut, USA. She has completed undergraduate work in biological sciences, business and holds an M.S. in Nutrition. Currently, Nicole is pursuing a PhD in Comparative Biomedical Sciences (Canine Nutrition/Metabolomics) at the prestigious University of Georgia in the USA.
Her background includes experience in the pharmaceutical industry on multiple R&D projects. Nicole has had the privilege to learn from leading figures in the human and pet health industries. Nicole has been heavily involved in police canine nutrition within the USA, helping to improve the modern care and feeding of working dogs. Her interests include working dog nutrition, raw feeding, pathogens, metabolomics, and nutrition's relationship to disease in humans and canines. Her current research involves the exploration of the canine urinary metabolome and the relationship to diet.
Publications: Cammack, N.R., Yamka, R.M., and Adams, V.J. (2021). Low Number of Owner-Reported Suspected Transmission of Foodborne Pathogens From Raw Meat-Based Diets Fed to Dogs and/or Cats. Frontiers in Veterinary Science 8. doi: 10.3389/fvets.2021.741575.
https://www.frontiersin.org/articles/10.3389/fvets.2021.741575/full
Contact:
https://www.linkedin.com/in/nicole-cammack-8400084b/?trk=author_mini-profile_title
Jenna Harrison
Jenna enthusiastically joined our team in early 2021 bringing nearly a decade of pet industry knowledge and experience along with her. She is a proud mom to cats Aerie and Spook who are both credited with her interest in pet nutrition. Quickly Jenna realized that there was a lot to be desired for honest, unbiased and accurate information within the industry and she knew she wanted to help change that. Much like the team at NPP, she believes in the value individualized diet, fresh food and tailored advice can provide for overall health, regardless of age. She also is the mom to 4 sugar gliders, Crumb, Crosby, Bindi and Gatsby which helps bring additional small animal knowledge to our robust team. When she's not helping pet parents at NPP Jenna can be found hiking with her husband Adam, horseback riding and painting pet portraits.
References:
https://todaysveterinarybusiness.com/pets-appa-survey-covid/ https://www.avma.org/resources-tools/animal-health-and-welfare/covid-19/covid-19-impacts-food-production-medicine https://www.petfoodindustry.com/blogs/7-adventures-in-pet-food/post/9165-how-prevalent-are-covid-19-pet-food-ingredient-shortages https://www.americanpetproducts.org/pubs_covidpulsestudy.asp https://foodindustryexecutive.com/2020/12/pet-food-and-treat-sales-stay-strong-in-an-unpredictable-year/#:~:text=In%20fact%2C%20US%20pet%20food,up%20by%20more%20than%207%25. https://www.petfoodprocessing.net/articles/14294-state-of-the-us-pet-food-and-treat-industry-2020
https://www.northpointpets.com/wp-content/uploads/2021/02/WheresAllThePetFood_ArticleHero.jpg
958
1536
Nicole Cammack and Jenna Harrison
https://northpointpets.com/wp-content/uploads/2022/08/NPP_nav_color-1-300x94.png
Nicole Cammack and Jenna Harrison
2021-02-26 19:59:07
2023-05-21 18:38:26
The Covid-19 Pet Food Shortage