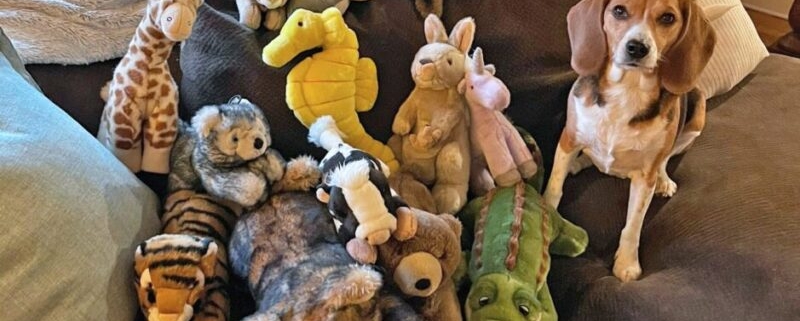 Dear NPP,
I love spoiling my dog with new toys. I bring home new ones for him all the time but he gets bored of them so quickly. Nothing really holds his interest for longer than a couple of days. What can I do to keep his interest?
Sincerely,
Drowning in Dog Toys
Giving toys to your dog is a great way to encourage play, enhance mental stimulation, and increase bonding. However, like with everything good in life, moderation is key.
NorthPoint Pet Tips
Lump your dog toys into groups. Each group should have at least one toy for each type of play: tug, fetch, puzzle, and chew. You can customize these categories for your dog's favorite activities like outdoor play, swimming, etc. You can determine how many toys is appropriate, but 4-5 should be plenty. Put each group of toys into their own basket or storage container. One toy group may include: Mammoth rope

toy for tug, a 

Kong tennis ball

for fetch, a 

West Paw Toppl

for mental enrichment, and a 

Benebone

for chewing.

Put away all but one collection of toys. Each week, swap the "old" toys for a new group of toys. At any given time, your dog should have access to just one of those collections of 4-5 toys. When you dig out those new toys, offer them with as much excitement as you would if you brought home a brand-new toy.
Pro Tip: When exchanging toy collections, inspect them for damage that may be hazardous to your dog. If the toy can easily become a choking hazard, discard the toy immediately.
This is also the perfect time to give those toys a good cleaning! Some rubber and plastic toys are dishwasher safe, but most can safely be cleaned with mild dish soap and warm water. Most plush toys are machine washable.
Why It Works:
Having a huge assortment of toys can actually have an adverse effect on your dog. He can easily become overwhelmed and overstimulated, resulting in a lack of excitement around playtime. By removing the "old" toys and replacing them with some that he hasn't seen in a few weeks, you're refreshing his play drive with a brand-new variety for him to engage with.
https://www.northpointpets.com/wp-content/uploads/2021/12/0a74cffd-634f-4ff6-86c7-9d251ca41bc0-e1640033551918.jpeg
682
800
Jenna Harrison
https://northpointpets.com/wp-content/uploads/2022/08/NPP_nav_color-1-300x94.png
Jenna Harrison
2022-12-19 09:00:23
2023-05-10 14:23:29
Can Your Dog Really Have Too Many Toys?