Provider Spotlight: Meriden Animal Hospital
Meriden Animal Hospital (MAH) isn't your typical veterinary practice. Their clinic celebrates the bond between pets and their parents and puts the health of its patients at the forefront of everything it does. Led by Dr. James St. Clair, the MAH team believes in holistic, individualized care for every pet.
Where Pet Care Meets Purpose
"Patient care always comes first," says St. Clair, and this philosophy echoes throughout the practice. It's not just about treating ailments. It's about ensuring that each pet leads a happy, healthy life. He understands that pets are family, and that's why they adopt a personalized approach. "We recognize that every dog is unique," Dr. James explains, "with different personalities, learning styles, and behavioral challenges."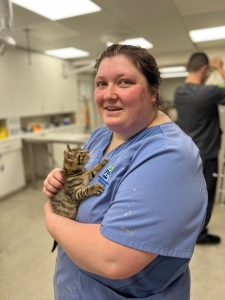 Their commitment to pet parents is equally remarkable. "We treat every parent like an old friend," he notes, "and their pets like their children." Building strong relationships with pet parents creates trust and a sense of partnership in caring for their beloved animals.
Meriden Animal Hospital stands out with its "Good, Better, Best" approach. Recognizing that different pet parents have varying needs and preferences, they offer options that allow informed decisions aligned with values and circumstances. It's a commitment to providing the best care possible.
A Proactive Approach
One of their key differentiators is their emphasis on proactive wellness. "With a proactive wellness mindset, everyone wins," says Dr. James. 
Preventing health issues before they arise benefits both pets and their parents in the long run. They also believe in the power of education, embodied in the "KISS Approach"—keeping things simple and providing knowledge that empowers pet parents to make informed choices.
But Meriden Animal Hospital isn't just about what they do. It's about how they do it. They embrace continuous improvement and change, challenging their status quo to evolve for the better. It's a commitment to staying current with veterinary science and technology advancements.
"A little bit of 'Joe' goes a long way," says Dr. James, referring to the principle that emphasizes the importance of a personal touch. They believe in going the extra mile to create memorable experiences for both pets and their parents.
Meriden collaborates with the NorthPoint team for nutrition and emphasizes community health. It's a commitment to building a network of expertise and resources to support their pet parents' needs. They are forward-thinking, compassionate, and centered around the well-being of both animals and their humans.
They are also committed to providing the highest level of care through their comprehensive range of services and the expertise of their dedicated team. 
In-house services
While Meriden operates as a general practice, MAH offers an extensive suite of in-house services. This includes a state-of-the-art laboratory, digital X-ray, ultrasound, internal medicine, and surgery. These capabilities enable them to diagnose and treat a wide array of medical conditions without the need for external referrals.
Specialist referrals

They understand the value of specialized expertise. That's why MAH actively collaborates with specialists in specific areas of veterinary medicine. Instead of attempting to manage everything internally, they engage in doctor-to-doctor conversations to refer patients to specialists who have dedicated their careers to specific organ systems. This ensures that each pet receives the highest level of care from experts with deep knowledge in their respective fields.
Diverse team with superpowers
Their staff is diverse, each member possessing unique "superpowers" in different intersections of animal health. From internal medicine to surgery and diagnostics, their team's varied specializations allow for a multidisciplinary approach to cases. Team members with different skills collaborate closely to develop the best treatment plans, ensuring that every aspect of a pet's health is considered.
Collaboration as the "Secret Sauce"
Collaboration is the secret sauce that enables MAH to tailor the best individualized approach to each pet's care. Their team members regularly engage in discussions and brainstorming sessions to ensure that all facets of a pet's health are taken into account when designing a treatment plan.
On-site ultrasounds
What sets Meriden apart from other local animal healthcare facilities is their ability to provide on-site ultrasounds. This advantage translates to quicker diagnosis and immediate assessment of a pet's condition, resulting in more efficient and targeted treatments.
Certified expertise
Dr. Amy Anderson, with her 23 years of experience and certification in Essential Oil Therapy, brings a unique dimension to the practice. Her expertise can be seamlessly integrated into treatment plans, offering holistic and alternative options for pet care.
Nutrition and supplementation
Perhaps most important of all, MAH recognizes the pivotal role that nutrition plays in overall pet health. In partnership with NorthPoint Pets, along with nutrition and supplementation brands like Kala Health & TopDog, the team constantly explores holistic approaches to well-being. They are always engaged in conversations around optimal nutrition, ensuring that every pet receives the best care possible.
Meriden Animal Hospital is more than a veterinary practice. It's a community that cares deeply about the well-being of pets and their parents. It's a place where the extraordinary becomes ordinary, where every pet's unique needs are met with compassion and expertise. It's where pet care meets purpose.